A coveted bodybuilder, a huge celebrity, and a respected politician. These 16 quotes from Arnold Schwarzenegger will inspire you for greatness.
If you're not familiar with Arnold Schwarzenegger, then know that he's Mr. Olympia, Terminator, and a governor extraordinaire. 
He started out as a bodybuilder, and weightlifter when he was a teenager. He then became the youngest titleholder for Mr. Universe at only 20 years old. 
Moving forward, he entered Hollywood and got the lead roles for Conan the Barbarian, and more notably: The Terminator. His long list of achievements does not end there, however. He then went into politics and served as the governor of California. 
All of that, while remaining humble, and staying close to his fans, makes him one of the highly respected people of today. We can all learn a thing or two from his accomplishments: to never give up, have a definite goal in mind, and stay humble.
So in this article, we've listed the best Arnold Schwarzenegger Motivational, Success, and Workout Quotes so you too will push for great success.
6 Best Arnold Schwarzenegger Inspirational Quotes
From being a seven-time Mr. Olympia champion to an A-class Hollywood celebrity- surely Arnold's successes in life can inspire anyone. And if not, this Twitter post about his team's reply to a Japanese student's letter might just do the trick (ps. It will). 
Here are 6 Arnold Schwarzenegger motivational quotes to motivate you in your career, money, or business.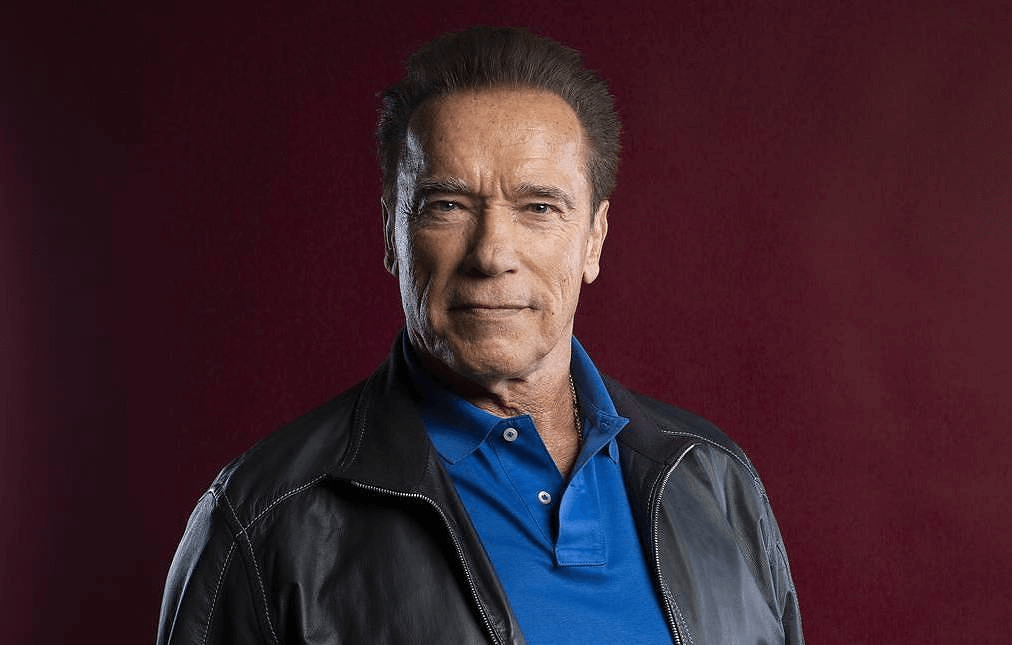 Source: Willy Sanjuan/Invision/AP
#1  "If you don't believe in yourself, then how will anyone else believe in you?"
Mindset is important in achieving anything. In this regard, it is important to first believe in ourselves (e.g. I can build this website from scratch) so that others will believe in us too. Believing in yourself is an important first step towards achieving your goals.
#2  "The mind is the limit. As long as the mind can envision the fact that you can do something, you can do it, as long as you really believe 100 percent."
It is your mind that sometimes prevents you from success. It's what compares you to other people, and tells you that maybe you can't do it. But as long as you

believe

that you can do it, then you'll definitely do it one way or the other. You may fail a couple of times, but as long as you have your goal in mind, then you can surely do it.
#3  "All I know is that the first step is to create a vision, because when you see the vision – the beautiful vision – that creates
the
Want power."
How can you set out to accomplish your goals when you don't have any in the first place? Remember that you must first create what you want to accomplish, before setting on

how

you can achieve them.
#4  "If you don't find the time, if you don't do the work, you don't get the results."
Tasks and goals take time. If you don't set time to accomplish them, then how can these be realized? Take some time, even for a couple of minutes, to do even the smallest increments of your goals. Want to build muscles? Do 5 squats per day and increase gradually, etc.
#5  "My definition of living is to have excitement always; there's a difference between living and existing."
To be the happiest you can be, remember to live your life full of excitement always. Don't settle with the comforts you're currently living with- sometimes it's great to get out of your comfort zone. Don't live, EXIST.
#6  "Life may be full of pain but that's not an excuse to give up."
Everyone experiences ups and downs in their lives, some more than others. Life is a rollercoaster, though it does not mean that at your downs you'll just get up and say "fudge it, I quit". You hold on for dear life and enjoy the ascent up. 
2 Top Arnold Schwarzenegger Bodybuilding Quotes
Other than being a world-famous movie star, Arnold Schwarzenegger is also known for his amazing physique. He did, after all, win the Mr. Olympia title 7 times. He also won several Mr. Universe titles, and was the youngest titleholder too! 
Here are Arnold Schwarzenegger Workout Quotes to help push you to train, exercise, or build muscle.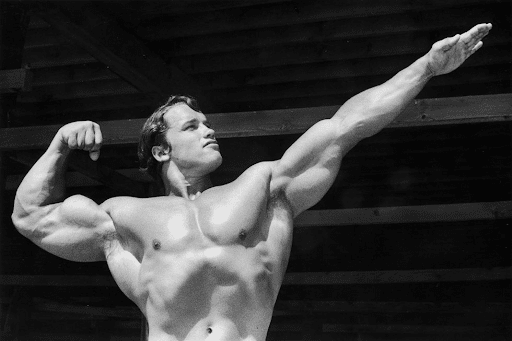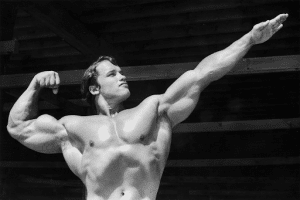 Source: Getty Images, from here
#1  "But I was wild only when I was wild. When it was time to train, I never missed a session."
Start, train, train every day. Remember when we said that little increments count? Do 5 sit-ups, then 10, you'll eventually get to 50! Never miss a session and your body will thank you for it.
#2  "From the bodybuilding days on, I learned that everything is reps and mileage. The more miles you ski, the better a skier you become; the more reps you do, the better your body."
This can be simplified as: the more you do something, the better you get at it. The more you do pushups, for example, the better you get at it and the more defined your muscles will be. 
4 Best Arnold Schwarzenegger Quotes About Life
It's not all glitz and glamour in Arnold's life. Unbeknownst to some, he had a rough childhood and grew up poor with a harsh upbringing. Past that though, he had many successes and awards. The following are 4 Arnold Schwarzenegger Quotes About Life that will help you get through life.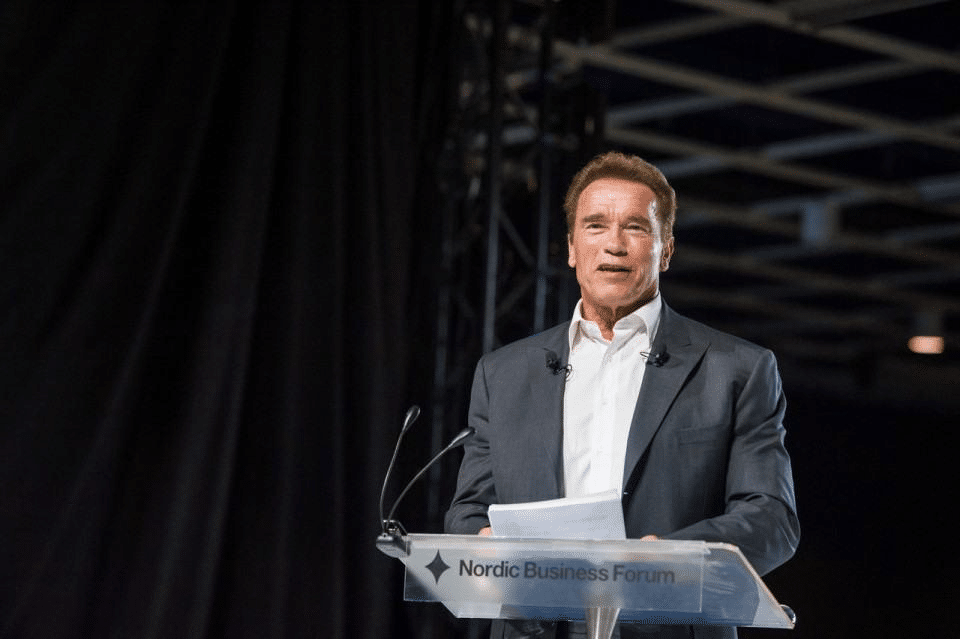 Source: Nordic Business Forum (nbforum)
#1  "What is the point of being on this Earth if you are going to be like everyone else?"
Sometimes we feel like we have to fit in to avoid being mocked or criticized. But not being true to yourself can lead to unhappiness. And what would you rather be, a sheep following the herd, or the sheep that's doing a cool trick on the skateboard? Better to stick out like a sore thumb.
#2  "I don't walk away from things that I think are unfinished."
Would you walk away from your art masterpiece a few strokes and colors away from its completion? Of course not! To truly accomplish something means going all out from start, to finish.
#3  "Help others and give something back. I guarantee you will discover that while public service improves the lives and the world around you, its greatest reward is the enrichment and new meaning it will bring your own life."
Know that awesome feeling you get after helping someone? That fleeting pride we get that we were able to help others. There are actually

studies

that confirm that helping others truly makes us happier. So yes, helping others is always a win-win! 
#4  "Positive thinking can be contagious. Being surrounded by winners helps you develop into a winner."
How we feel, and act are oftentimes the result of our environment and the people that we're with. So surrounding yourself with people who are positive, and have a great mindset will help you to become one too. 
4 Best Arnold Schwarzenegger Success Quotes
As seen through his many achievements (and huge net worth), we can say that Arnold Schwarzenegger is a successful and well-accomplished individual. Success does not blind him, however, and goes out of his way to help and interact with his loyal supporters. The following are Arnold Schwarzenegger Success Quotes that are sure to drive you to achieve great things.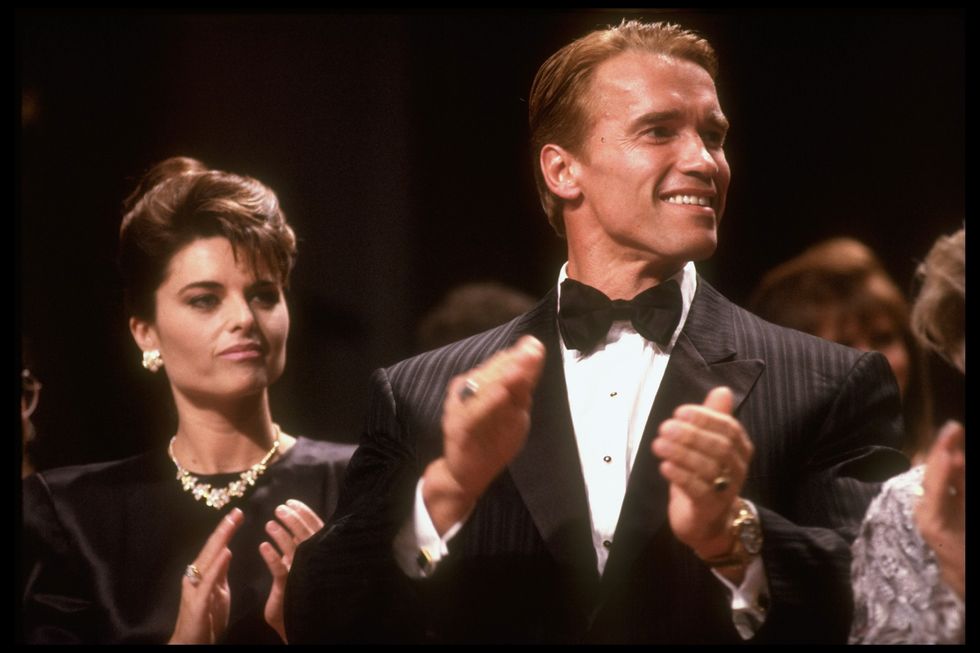 Source: Getty Images, from here
To top of the list, here is an Arnold Schwarzenegger strength quote:
#1  "Strength does not come from winning. Your struggles develop your strengths. When you go through hardships and decide not to surrender, that is strength."
Your strength does not come from what you've achieved itself, but what you were able to gain while pursuing it. Surely your struggles and hardships made you a stronger person. And as they say, it's the journey, not the destination.
#2  "To be successful, however, you must be brutal with yourself and focus on the flaws."
It's not all fun and games in your journey to success. You must get ready to look at your flaws, and what you are lacking. Looking at what you lack will help you to do something about it. E.g. want to be a video editor but don't know how to edit videos? Upskill!
#3  "None of my rules of success will work unless you do."
Everyone wants everything to be convenient- even success. But the thing is, if you don't do anything to achieve what you want, then you won't achieve anything at all. So our advice: start now, and as Shia LaBeouf said: "Just do it!"
#4   "While you're out there partying, horsing around, someone out there at the same time is working hard. Someone is getting smarter and someone is winning. Just remember that."
We should be smart with our time. The time we have is limited, so better use it in upskilling, and socializing. That does not mean that you can't party, and horse around, however! Use your time wisely.
Wrapping Up 
From acting to big roles, to becoming a title-holder for body-building years in a row, and winning a seat in US politics- Arnold Schwarzenegger accomplished them all! This while remaining humble, and staying close to his fans makes him one of the highly-respected people of today. Hope you were able to learn a thing or two from our list of quotes! 
If you want more, then try the following articles: