Source: Pinterest
Are you facing a lot of obstacles in your business journey and are looking for a way to overcome discouragement? Here are
Jeff Bezos Quotes
to inspire you!
Everybody knows Jeff Bezos – one of the world's richest businessmen who revolutionized the E-commerce industry. He is a technology pioneer and investor as well as the CEO of the retail giant Amazon.com which is generating hundreds of dollars. Amazon became the world's biggest E-commerce website after its launch in 1994.
Not only that, but Jeff Bezos also started and acquired other businesses such as Blue Origin, Amazon Web Services, Whole Foods, and The Washington Post. He even closed bookstores by launching eBooks through Kindle Direct Publishing. 
This makes us wonder, how did Jeff Bezos do all of these? It's because of his vision which you will know more about through our list of the best Jeff Bezos motivational quotes here!
4 Notable Jeff Bezos Business Quotes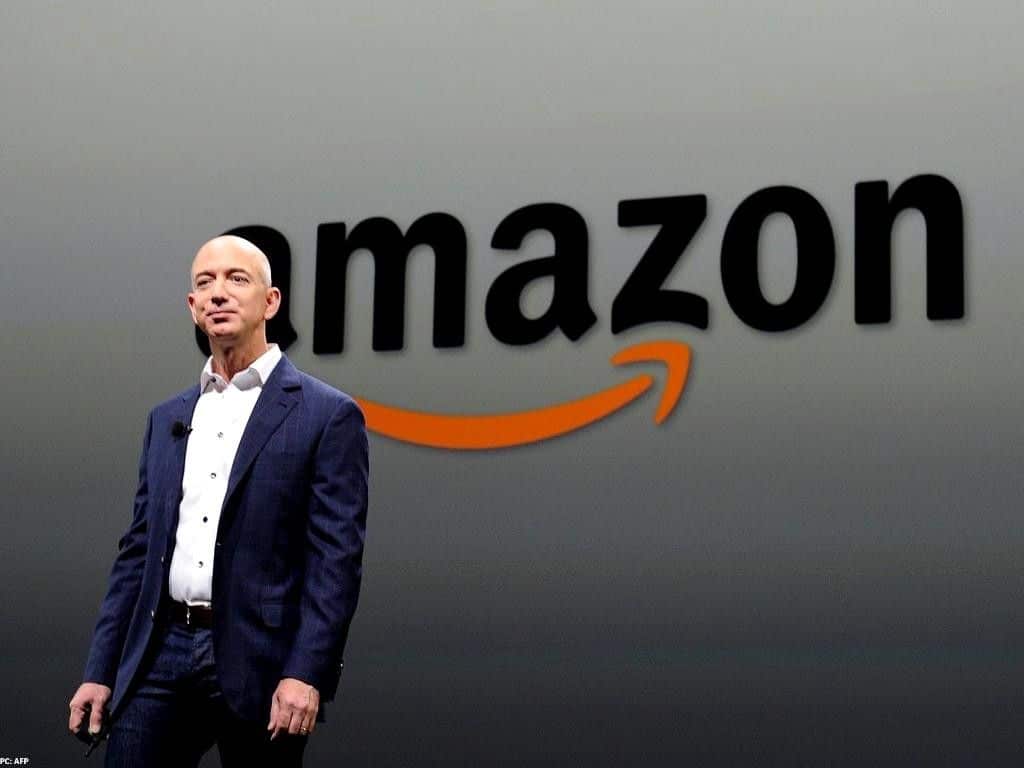 Source: Pinterest
First of all, let's take a look at how Jeff Bezos thinks businesses should be if you want to guarantee the success of your company. 
Before you enter the world of business, the first thing you should know about is, of course, how to do business. Here are some business quotes to guide you:
#1 "There are two ways to extend a business. Take inventory of what you're good at and extend out from your skills. Or determine what your customers need and work backward, even if it requires learning new skills." – Jeff Bezos
You grow your business either by doing something that you're already good at or by understanding your customers' needs to create new products. If you go for the second option, you can follow Amazon's working backward method.
#2 "There are two kinds of companies, those that work to try to charge more and those that work to charge less. We will be the second." – Jeff Bezos
Businesses tend to raise their prices to generate more profit. High prices often imply product quality, but this is not always true. Consider Amazon.com, for instance. Their markups are maintained low. Regardless, they still keep services highly satisfactory. This is how they were able to build customer trust and loyalty.
#3 "If you don't understand the details of your business you are going to fail." – Jeff Bezos
Understanding what your business is about and what you want to achieve is important for a business to succeed. Set your mission and vision to make sure that everyone in your business is working toward the same goal.
#4 "A brand for a company is like a reputation for a person. You earn reputation by trying to do hard things well." – Jeff Bezos
Spreading brand awareness and building brand reputation are what will make a business survive. However, you can only create brand trust if you can offer your customers something valuable and unique that no one has ever done before. And this won't be easy.
4 Encouraging Jeff Bezos Quotes on Success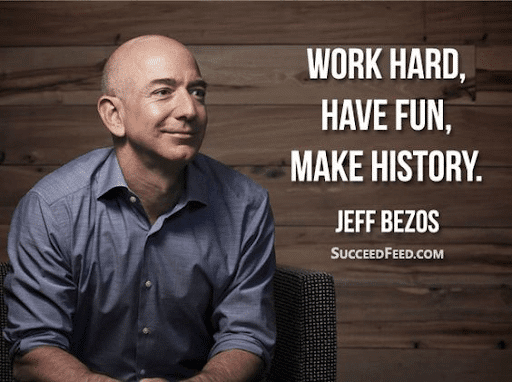 Source: Pinterest
No businessman would want his company to fail. Thus, achieving success should be the top priority when you make any decision.  Entrepreneurs achieve their success in different ways but their secrets to their success are all the same: perseverance and hard work. Below are more Jeff Bezos quotes to inspire success in you:
#1 "The keys to success are patience, persistence, and obsessive attention to detail." – Jeff Bezos
Success is a long-term process that will require great effort, so you should learn to be patient and keep on working hard until you achieve it. Learn to look at even the small details in your journey, because even one overlooked detail can prevent you from succeeding.
#2 "If you decide tha
t you're going to do only the things you know are going to work, you're going to leave a lot of opportunities on the table." – Jeff Bezos
The most successful products nowadays are all results of experiments that were not guaranteed to work. Do not be afraid to do something that you haven't done before, even if you're not sure if it's going to work or not. The results might even surprise you later on.
#3 "If you're not stubborn, you'll give up on experiments too soon. And if you're not flexible, you'll pound your head against the wall and you won't see a different solution to a problem you're trying to solve." – Jeff Bezos
Learn to deal with disappointments effectively. Failures are not meant to make you give up. They are meant to teach you a lesson and push you to try harder in finding a solution to the problem.
#4 "We understand that and believe in failing early and iterating until we get it right. When this process works, it means our failures are relatively small in size (most experiments can start small), and when we hit on something that is really working for customers, we double-down on it with hopes to turn it into an even bigger success." – Jeff Bezos
It is better to fail early in the process than to fail when you think that everything is already working properly. Keep on trying and improving your solutions until you find something that works. Big things always begin with small things.
4 Powerful Jeff Bezos Quotes on Leadership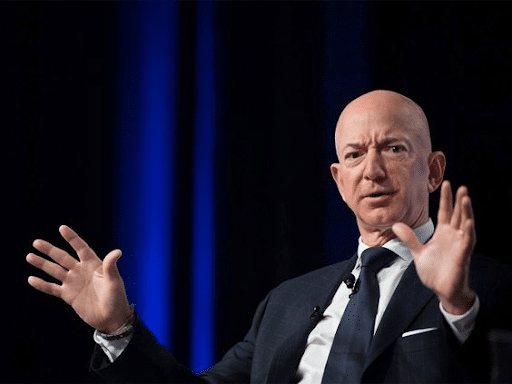 Source: Pinterest
Good leadership is important to any profession, not only in the marketplace. Without effective leadership, your company can become disorganized and you might not even notice that your business is already falling apart. Try to follow these leadership quotes from Jeff Bezos to guide you in leading your team:
#1 "I want to see good financial returns, but also to me there's the extra psychic return of having my creativity and technological vision bear fruit and change the world in a positive way." – Jeff Bezos
A successful company is one that is able to generate attractive financial returns. But businesses that are able to make the world a better place for their customers are even more successful.
#2 "For every leader in the company, not just for me, there are decisions that can be made by analysis. These are the best kinds of decisions!" – Jeff Bezos
An analysis is important in every decision-making process. Analyze the possible outcomes, including the advantages and disadvantages of your options first before finally settling on a decision. Remember, regret always comes last so decide well.
#3 I knew that if I failed I wouldn't regret that, but I knew the one thing I might regret is not trying." – Jeff Bezos
Regret is the most painful thing in life. Failing is better than not trying anything at all. Because at least, you won't be bothered forever with the many 'what ifs'. What if you tried and were able to successfully create something that could change the world?
#4 "When you receive criticism from well-meaning people, it pays to ask, 'Are they right?' And if they are, you need to adapt to what they're doing. If they're not right, you need to have that long-term willingness to be misunderstood." – Jeff Bezos
You will always receive criticisms especially when you are nearing success because people are afraid of what you can achieve. But it's better to treat these criticisms as constructive ones to better understand what you really want to achieve.
4 Insightful Jeff Bezos Customer Quotes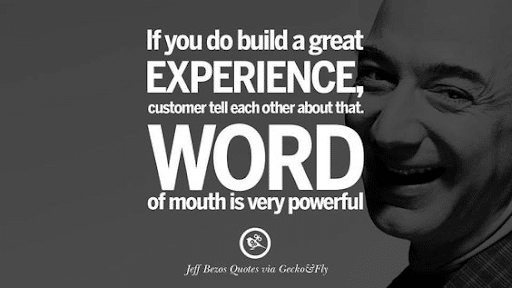 Source: Pinterest
Why, do you think, Amazon.com became the top online retail website in the E-commerce industry? It is because of Jeff Bezos' vision to be the world's most client-centric company by creating a platform where users can find almost anything. Let's end our list with these helpful quotes on how to become a successful business by focusing on your customers:
#1 "If you do build a great experience, customers tell each other about that. Word of mouth is very powerful." – Jeff Bezos
When a customer is unhappy about your product, expect them to tell their experience to hundreds of their friends who also have hundreds of other friends. One single negative review is powerful to influence the perception of other people on your business.
#2 "The best customer service is if the customer doesn't need to call you, doesn't need to talk to you, it just works." – Jeff Bezos
As Jeff Bezos said, look at your customers as party guests in which you are the host. Your job is to create a better experience for your guests. The best feeling as a host is to see them enjoying rather than complaining about something.
#3 "If you're competitor-focused, you have to wait until there is a competitor doing something. Being customer-focused allows you to be more pioneering." – Jeff Bezos
It is already normal in the business world to know what our competitors are doing so we can make better products and services than theirs. However, true success comes when you really focus on your customers' needs and not what your competitors are doing.
#4 "When we're at our best, we don't wait for external pressures. We are internally driven to improve our services, adding benefits and features, before we have to. We lower prices and increase value for customers before we have to." – Jeff Bezos
Don't wait to encounter a surge of problems or complaints from your customers before you start making some improvements to your products and services. Keep working on finding ways to refine your customers' experience.
Also Read:
Wrapping Up
The most successful businessmen didn't achieve success easily and within a short period of time. They put in a lot of hard work, made sacrifices, and endured obstacles for quite some time. However, these challenges are not without a purpose. It is where they gained priceless lessons that were necessary for their journey toward success. Hopefully, these Jeff Bezos inspirational quotes have been helpful in reigniting the passion in you.