Can love blossom in a field watered with pride and prejudice? Let's find out how this can be made possible through these
best pride and prejudice quotes
!
First impressions last and they can either make or break relationships. In Pride and Prejudice, Mr. Darcy and Elizabeth's first impressions of each other were awful that they ended up despising each other. Mr. Darcy's pride during their first meeting caused him to belittle Elizabeth and Elizabeth to have prejudices against him.
Since Mr. Darcy and Elizabeth Bennet are the protagonists in the story, it makes sense to assume that they represent the title. However, with a thorough analysis of each of the characters, you will find out that the title is not only about the protagonists. It represents all of the characters' flaws as well as their society's.
Here, we have compiled the pride and prejudice key quotes including the best pride and prejudice book quotes and movie quotes. Get to know the characters more through these famous quotes!
15 Mr. Darcy Quotes [Wise Words From a Man of Pride]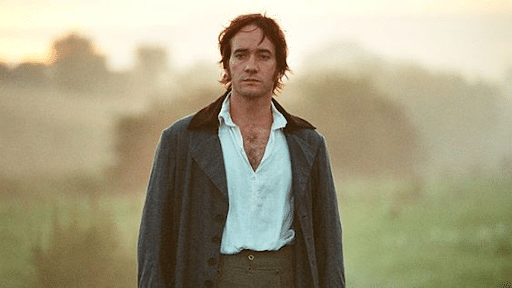 Source: Pinterest
Let's start with some wise words from the male protagonist of the story who was well-known for his arrogance.
#1 "I was given good principles, but left to follow them in pride and conceit."
#2 "I cannot fix on the hour, or the spot, or the look, or the words, which laid the foundation. It is too long ago. I was in the middle before I knew that I had begun."
#3 "My good opinion once lost is lost forever."
#4 "Your conjecture is totally wrong, I assure you. My mind was more agreeably engaged. I have been meditating on the very great pleasure which a pair of fine eyes in the face of a pretty woman can bestow."
#5 "Yes, vanity is a weakness indeed. But pride – where there is a real superiority of mind, pride will be always under good regulation."
#6 "If you will thank me, let it be for yourself alone. That the wish of giving happiness to you might add force to the other inducements which led me on, I shall not attempt to deny."
#7 "There is, I believe, in every disposition a tendency to some particular evil—a natural defect, which not even the best education can overcome."
#8 "She is tolerable, but not handsome enough to tempt me, and I am in no humor at present to give consequence to young ladies who are slighted by other men."
VIDEO: https://www.youtube.com/watch?v=dsRvYQH_JdY
(Barely Tolerable Scene)
#9 "The power of doing anything with quickness is always prized much by the possessor, and often without any attention to the imperfection of the performance."
#10 "You are too generous to trifle with me. If your feelings are still what they were last April, tell me so at once. My affections and wishes are unchanged, but one word from you will silence me on this subject forever."
#11 "You either choose this method of passing the evening because you are in each other's confidence, and have secret affairs to discuss, or because you are conscious that your figures appear to the greatest advantage in walking; if the first, I would be completely in your way, and if the second, I can admire you much better as I sit by the fire."
#12 "All this she must possess and to all this, she must yet add something more substantial, in the improvement of her mind by extensive reading."
#13 "My object then was to show you, by every civility in my power, that I was not so mean as to resent the past; and I hoped to obtain your forgiveness, to lessen your ill opinion, by letting you see that your reproofs had been attended to. How soon any other wishes introduced themselves I can hardly tell, but I believe in about half an hour after I had seen you."
#14 "You showed me how insufficient were all my pretensions to please a woman worthy of being pleased."
#15 "Nothing is more deceitful than the appearance of humility. It is often only carelessness of opinion, and sometimes an indirect boast."
13 Elizabeth Bennet Quotes [Intellect From Stubbornness]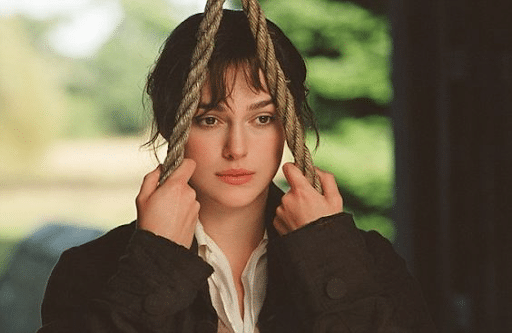 Source: Pinterest
Of course, we wouldn't want to skip the story's key protagonist. Here are Pride and Prejudice Elizabeth quotes for you.
#1 "I could easily forgive his pride if he had not mortified mine."
#2 "There is a stubbornness about me that never can bear to be frightened at the will of others. My courage always rises at every attempt to intimidate me."
#3 "What are men to rocks and mountains?"
#4 "The distance is nothing when one has a motive."
#5 "One cannot be always laughing at a man without now and then stumbling on something witty."
#6 "He is a gentleman, and I am a gentleman's daughter. So far we are equal."
#7 "Do not consider me now as an elegant female intending to plague you, but as a rational creature speaking the truth from her heart."
#8 "There are few people whom I really love, and still fewer of whom I think well. The more I see of the world, the more am I dissatisfied with it, and every day confirms my belief of the inconsistency of all human characters, and of the little dependence that can be placed on the appearance of merit or sense."
VIDEO: https://www.youtube.com/watch?v=wKiVq3s036M
(Nervous Mr. Darcy visiting Elizabeth)
#9 "And those are the words of a gentleman. From the first moment I met you, your arrogance and conceit, your selfish disdain for the feelings of others made me realize that you were the last man in the world I could ever be prevailed upon to marry."
#10 "I am the happiest creature in the world. Perhaps other people have said so before, but no one with such justice. I am happier even than Jane; she only smiles, I laugh."
#11 "Had I been in love, I could not have been more wretchedly blind. But vanity, not love, has been my folly. Pleased with the preference of one, and offended by the neglect of the other, on the very beginning of our acquaintance, I have courted prepossession and ignorance, and driven reason away, where either were concerned. Till this moment I never knew myself."
#12 "No! No. You may only call me 'Mrs. Darcy' when you are completely, and perfectly, and incandescently happy."
#13 " "There certainly was some great mismanagement in the education of those two young men. One has got all the goodness, and the other all the appearance of it." 
7 Lady Catherine de Bourgh Quotes [Learning From the Old Ways]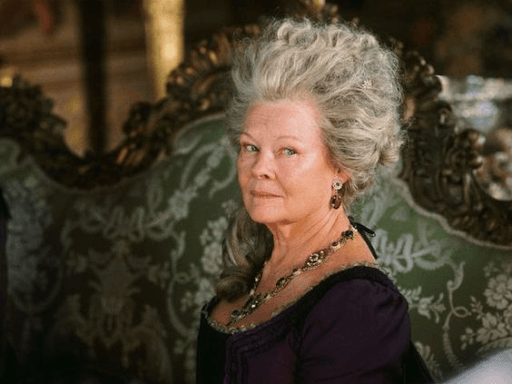 Source: Pinterest
Now, let's proceed to the words of wisdom from Lady Catherine who chose to stick with the norms.
#1 "Upon my word, you give your opinion very decidedly for so young a person. Pray, what is your age?"
#2 "I take no leave of you, Miss Bennet. I send no compliments to your mother. You deserve no such attention. I am most seriously displeased."
#3 "I must have my share in the conversation if you are speaking of music. There are few people in England, I suppose, who have more true enjoyment of music than myself, or a better natural taste. If I had ever learnt, I should have been a great proficient. And so would Anne, if her health had allowed her to apply. I am confident that she would have performed delightfully." 
#4 "No governess! How was that possible? Five daughters brought up at home without a governess! I never heard of such a thing. Your mother must have been quite a slave to your education." 
#5 "heaven and earth! Of what are you thinking? Are the shades of Pemberley to be thus polluted?"
#6 "Obstinate, headstrong girl! I am ashamed of you!"
#7 "You are on first name terms with your servant? How odd."
VIDEO: https://www.youtube.com/watch?v=ONaPfzjl8qc
(Lady Catherine de Bourgh interrogating Elizabeth)
11 Pride and Prejudice Love Quotes
Here are also some of the notable love quotes from Pride and Prejudice:
#1 "Only the deepest love will persuade me into matrimony, which is why I shall end up an old maid." – Elizabeth Bennet
#2 "We are all fools in love." – Charlotte Lucas
#3 "You have bewitched me body and soul. And I love…I love…I love you. I never wish to be parted from you from this day on." – Mr. Darcy
#4 "I wonder who first discovered the efficacy of poetry in driving away love!" – Elizabeth Bennet
#5 "A lady's imagination is very rapid; it jumps from admiration to love, from love to matrimony in a moment." – Mr. Darcy
#6 "In vain I have struggled. It will not do. My feelings will not be repressed. You must allow me to tell you how ardently I admire and love you." – Mr. Darcy
#7 "To be fond of dancing was a certain step towards falling in love." – Jane Austen
#8 "A girl likes to be crossed a little in love now and then." – Mr. Bennet
#9 "It was gratitude; gratitude, not merely for having once loved her, but for loving her still well enough to forgive all the petulance and acrimony of her manner in rejecting him, and all the unjust accusations accompanying her rejection." – Jane Austen
#10 "I love you…….Most Ardently." – Mr. Darcy
#11 "Not all of us can afford to be romantic." – Charlotte Lucas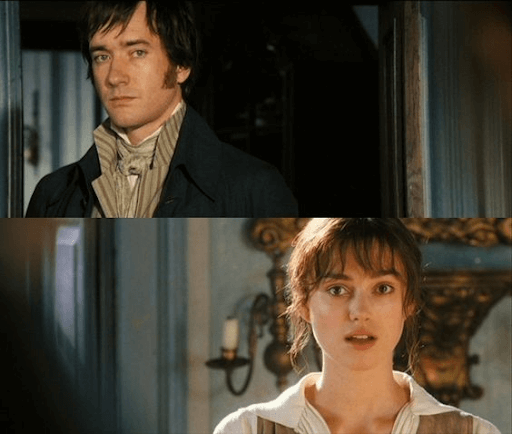 Source: Pinterest
13 Other Pride and Prejudice Famous Quotes
Want more Pride and Prejudice quotes? Here are other quotes for you to read including the most unforgettable Pride and Prejudice movie quotes:
#1 "It is a truth universally acknowledged, that a single man in possession of a good fortune, must be in want of a wife." – Jane Austen
#2 "So what do you recommend to encourage affection?" – Mr. Darcy
"Dancing. Even if one's partner is barely tolerable." – Elizabeth Bennet
#3 "For what do we live, but to make sport for our neighbors, and laugh at them in our turn?" – Mr. Bennet
#4 Elizabeth: "Your defect is a propensity to hate everybody." 
Mr. Darcy: "And yours is willfully to misunderstand them."
#5 "People themselves alter so much that there is something new to be observed in them forever." – Mr. Bingley
#6 "I declare after all there is no enjoyment like reading! How much sooner one tires of anything than of a book! — When I have a house of my own, I shall be miserable if I have not an excellent library." – Caroline Bingley
VIDEO: https://www.youtube.com/watch?v=zrUd40tmeOQ
(Elizabeth visiting her sister, Jane)
#7 "Happiness in marriage is entirely a matter of chance." – Charlotte Lucas
#8 "They walked on, without knowing in what direction. There was too much to be thought, and felt, and said, for attention to any other objects." – Jane Austen
#9 "Vanity and pride are different things, though the words are often used synonymously. A person may be proud without being vain. Pride relates more to our opinion of ourselves, vanity to what we would have others think of us." – Mary Bennet
#10 "Angry people are not always wise." – Jane Austen
#11 "There is nothing so bad as parting with one's friends. One seems to forlorn without them." – Mrs. Bennet
#12 "How little of permanent happiness could belong to a couple who were only brought together because their passions were stronger than their virtue." – Jane Austen
#13 "We all know him to be a proud, unpleasant sort of man; but this would be nothing if you really liked him." – Mr. Bennet
VIDEO: https://www.youtube.com/watch?v=yBqyLoWtYg8
(Mr. Darcy proposing to Elizabeth)
Also Read:
Wrapping Up
In Pride and Prejudice, Mr. Darcy and Elizabeth's love story taught us the dangers of having biased opinions about other people without concrete proof. Although their first meeting is not that pleasant, their willingness to change and understand each other led to a positive ending. This proves that love can soften even the coldest hearts, given that one is willing to change for the better for the sake of love.
Hopefully, these Jane Austen Pride and Prejudice quotes have been helpful in understanding the story better.