Although pride has a negative connotation, there also exists what is called good pride. Let's find out the difference between these two in our list of
pride quotes
.
Pride can either lead you to your success or your demise. Having pride in yourself is good for self-motivation and for boosting your self-confidence. However, when your pride becomes too high, you might end up cutting people off because of arrogance. There are crucial differences between healthy and unhealthy pride and one of these is that healthy pride is not egocentric. You should also learn to be proud of other people and not only of yourself.
So if you are in search of wise pride phrases you can use as a caption, we've got the top ones here. Check out our list of the best pride sayings including foolish pride quotes and pride inspirational quotes that we have selected especially for you below!
8 Pride Love Quotes
Let's start our list with these pride quotes in relationships:
#1 "It is better to lose your pride with someone you love rather than to lose that someone you love with your useless pride." – John Ruskin
#2 "Humility and pride will forever battle whenever or wherever love is concerned." – Jeremy Aldana
#3 "Inside pride lies a little fragile child that yearns for love and protection." – Bangambiki Habyarimana
#4 "Pride is a disease. It builds walls, not bridges and it destroys family ties and important relationships. Throughout my life, I have many examples of people building walls by their pride, their attitude, but very few examples of people building bridges." – Itayi Garande
#5 "The greatest enemy to love is your pride." – Pete Wilson
#6 "Most relationships fail because couples fight with pride more than they work with love."
#7 "Sometimes, we choose to be wrong. Not because we really are wrong, but because we value our relationship more than our pride."
#8 "If they're holding onto their pride, their ego, and their excuses instead of holding onto you, it's time to let go."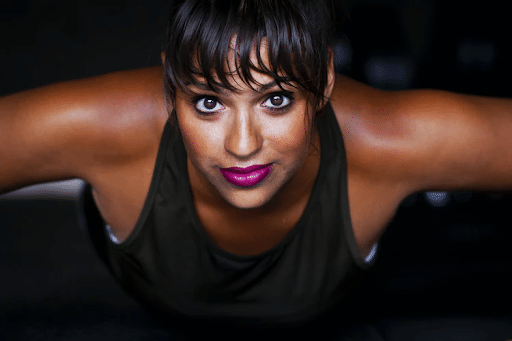 Source: Unsplash
8 Girls Pride Quotes
Check out our list of woman pride quotes too:
#1 "Every woman that finally figured out her worth, has picked up her suitcases of pride and boarded a flight to freedom, which landed in the valley of change." – Shannon L. Alder
#2 "If you want to do something, what does it matter where you are ranked? Nor does being a woman make a difference." – Kalpana Chawla
#3 "You have to fight because you can't count on anyone else fighting for you. And you have to fight for people who can't fight for themselves. To get anything of real value, you have to fight for it." – Ronda Rousey
#4 "Stand for something or you will fall for anything. Today's mighty oak is yesterday's nut that held its ground." – Rosa Parks
#5 "Never limit yourself because of others' limited imagination; never limit others because of your own limited imagination." – Mae Jemison
#6 "Always aim high, work hard, and care deeply about what you believe in. And, when you stumble, keep faith. And, when you're knocked down, get right back up and never listen to anyone who says you can't or shouldn't go on." – Hillary Clinton
#7 "I don't go by the rulebook; I lead from the heart, not the head." – Princess Diana
#8 "A woman with a voice is by definition a strong woman. But the search to find that voice can be remarkably difficult." – Melinda Gates
8 Pride and Humility Quotes
Below are more inspirational quotations about pride you can read:
#1 "Some people would rather die in their pride than live in their humility." – Anthony Liccione
#2 "Pride is concerned with who is right. Humility is concerned with what is right." – Ezra Taft Benson
#3 "Pride makes us artificial; humility makes us real." – Thomas Merto
#4 "Humility is nothing but truth, and pride is nothing but lying." – St. Vincent de Paul
#5 "Some ask if lowering one's pride is conceding defeat. I think not. Humility is a sign of inner strength and wisdom." – Haemin Sunim
#6 "It was pride that changed angels into devils; it is humility that makes men as angels." – Augustine of Hippo
#7 "Humility is the ability to give up your pride and still retain your dignity." – Vanna Bonta
#8 "Pride slays thanksgiving, but a humble mind is the soil out of which thanks naturally grows. A proud man is seldom a grateful man, for he never thinks he gets as much as he deserves." – Henry Ward Beecher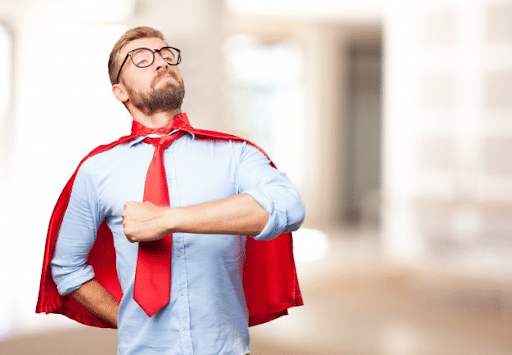 Source: Unsplash
8 Taking Pride in Your Work Quotes
Learn to value your work with these pride statuses about work:
#1 "Few people can walk in your shoes. You are the only one that knows your obstacles, challenges, and struggles. Be proud of yourself and the progress you've made." – Edmond Mbiaka
#2 "Take pride in your work at all times. Remember, respect for an umpire is created off the field as well as on." – Ford Frick
#3 "You got to work hard whatever you're doing and try to be number one and take pride in what you're doing. You want to be at the best at your spot then you got to work hard, man. A lot of guys don't work as hard as it gonna take." – Moses Malone
#4 "If you don't take professional pride in your work, you're probably in the wrong job." – Dedy Budiman
#5 "Take pride in what you do and let the quality of your work be your signature." – Kloby
#6 "The pride people take in their work transcends to their homes, their education, families, and communities." – Leonard Boswell
#7 "Don't wait for an employer, friend, or mentor to show appreciation for your work. Take pride in your own efforts on a daily basis." – Denis Waitley
#8 "Always be prepared; always work hard and take pride in your work no matter what it is. I still follow that advice and have already tried to pass it on to my children. They, of course, ignored me." – Allen Covert
8 Proud Of Myself Quote
Always be proud of yourself and never underestimate what you have. Below are other quotes for being proud of yourself:
#1 "Even so, I was proud of myself for taking action at all. I didn't hide or run away or pretend the ugliness didn't happen. I stood up and said something that was true. I said it out loud, and by doing so, I was standing up for lots of people, not just me." – Lauren Myracle
#2 "I'm so proud of myself. I worked with anger, with the darkest things in the world." – Courtney Love
#3 "I'm kind of proud of myself. I've been able to keep a certain grace about me, even in the times of disgrace and craziness." – Pamela Anderson
#4 "I'm very proud of myself because I have come so close to just giving up and I haven't done that." – Brandy Norwood
#5 "Not too many people could walk a mile in your shoes. Only you know your struggles, challenges, and obstacles; so be proud of how far you have come." – Edmond Mbiaka
#6 "Love myself I do. Not everything, but I love the good as well as the bad. I love my crazy lifestyle, and I love my hard discipline. I love my freedom of speech and the way my eyes get dark when I'm tired. I love that I have learned to trust people with my heart, even if it will get broken. I am proud of everything that I am and will become." – Johnny Weir
#7 "Be proud of yourself. Be proud that your heart and intentions are good. Be proud of the fact that you are trying." – Richelle E. Goodrich
#8 "God made me the way I am and I accept myself. I am who I am and I'm proud of myself." – Caster Semenya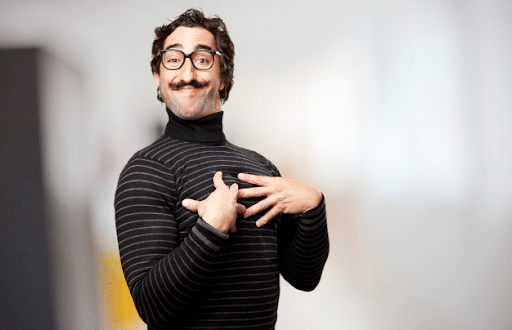 Source: Freepik
8 Funny Pride Quotes
Let's laugh a little with these funny pride quotes:
#1 "I'm very proud of myself. On my, whatever the literacy is, I'm pretentious, totally pretentious. I like to say 'hmm', for example." – Tom Lehrer
#2 "Nothing sucks more than that moment during an argument when you realize you're wrong."
#3 "Pride is a funny thing. It can make what is truly worthless appear to be a treasure."
#4 "Realizing you're wrong in the middle of an argument but fighting anyway all in the name of pride."
#5 "Thank you for calling Customer Service. If you're calm and rational, press 1. If you're a whiner, press 2. If you're a hothead, press 3."
#6 "A military man can scarcely pride himself on having smitten a sleeping enemy. It is more a matter of shame, simply, for the one smitten."
#7 "It would serve me better if they put shipping carts in the middle of the store where my pride realizes I have too much shit to carry."
#8 "If you say you're cooler than me, does that make me hotter than you?"
8 Other Proud Quotations
We've got more proud feeling quotes, quotes about proud people, quotes on pride and arrogance, and others below:
#1 "Pain is temporary, but pride is forever."
#2 "When dealing with people, remember you are not dealing with creatures of logic, but with creatures bristling with prejudice and motivated by pride and vanity." – Dale Carnegie
#3 "As long as you are proud, you cannot know God. A proud man is always looking down on things and people: and, of course, as long as you are looking down you cannot see something that is above you." – C.S. Lewis
#4 "All men make mistakes, but a good man yields when he knows his course is wrong and repairs the evil. The only crime is pride." – Sophocles
#5 "Pride is holding your head up when everyone around you has theirs bowed. Courage is what makes you do it." – Bryce Courtenay
#6 "Pride helps us, and pride is not a bad thing when it only urges us to hide our own hurts—not to hurt others." – George Eliot
#7 "Generosity is giving more than you can, and pride is taking less than you need." – Khalil Gibran
#8 "Time and time again does the pride of man influence his very own fall. While denying it, one gradually starts to believe that he is the authority, or that he possesses great moral dominion over others, yet it is spiritually unwarranted. By that point he loses steam; in result, he falsely begins trying to prove that unwarranted dominion by seizing the role of a condemner." – Criss Jami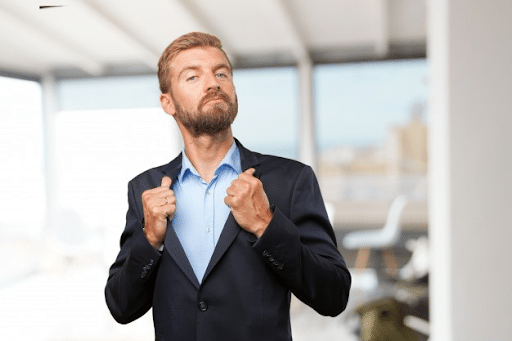 Source: Freepik
Wrapping Up
Pride is not always a bad thing if you know how to control it. You can even motivate and inspire other people when they don't feel intimidated or threatened by you. It can be a virtue if you are able to learn how to use your pride in a good sense. It can also move you toward your goals. It can help you become a better person and we hope that our collection of pride captions was able to do exactly just that.
If you want more inspirational quotes, you can check out our other blogs below: