Looking for profitable but low-cost

printing business ideas

that you can start today? Check out our list of

custom digital printing

ideas that might help you!
Marketing and advertising are always crucial parts of promoting a brand. This is why a lot of businesses keep on searching for reliable printing companies that can help them increase their brand reach.
Due to this, the demand for printing businesses has always been high across the globe, especially online printing businesses that offer customized printing. In fact, the market size for digital printing has been forecasted to grow from $24.8 billion in 2021 to $34.3 billion by 2026 at a 6.7% CAGR.
This is why small printing shop ideas have the potential to grow exponentially if you start with the right business idea. Let us help you find the most profitable print on demand business ideas and paper printing business ideas through our meticulously compiled list below:
#1 T-Shirt Business Ideas and Screen Printing Business
T-shirts are widely popular among all genders of all ages. In fact, the T-shirt market is expected to grow at a 9.7% CAGR from 2021 to 2028. So if you want to have good revenue, designing and selling T-shirts would be your best option. 
Investment Range to Start
$1,000 and above for standard T-shirt printing

$15,000 and above for screen printing
Niche Market and/or Business Ideas
Online T-shirt business

T-shirts printed with funny slogans for nurses, doctors, dog owners, and other specific niches
Why Choose This Business
Simplest printing business that you can do online

T-shirts are highly popular worldwide regardless of age and gender

It can give you good revenue

It can be done by both newbie and veteran entrepreneurs

You can print in a small space at home

Very profitable
#2 Mug Printing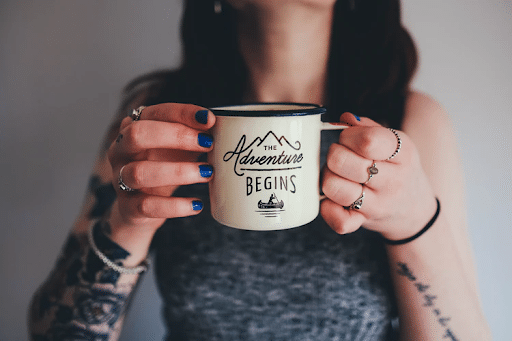 Source: Unsplash
Custom mugs are one of the best gifts someone can give to another person to show their appreciation or affection. Just like T-shirts, personalized mugs are also very common nowadays which makes mug printing a good business to start today. You only need blank mugs, printing equipment, and a mug heat press.
Investment Range to Start
Niche Market and Business Ideas
Mugs with quality designs and fascinating quotes to help showcase messages

Corporate gifts for vendors and employees

Birthday gifts

Wedding gifts
Why Choose This Business
It is among the top printing business options aside from T-shirt printing

It only requires little investment

Fewer materials needed for mug printing
#3 Photo Printing Business Ideas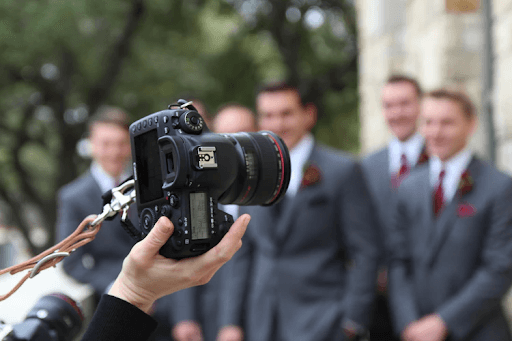 Source: Unsplash
Photo booths have always been a hit in weddings, birthday celebrations, corporate parties, proms, reunions, and more. A photo printing business would be another great idea because the photo printing market was projected to grow at an 8.3% CAGR from 2020-2027.
Investment Range to Start
Niche Market and Business Ideas
Printing wedding photos and partnering with bridal shops, wedding planners, and caterers

Printing newborn photos (check out birthing centers, obstetricians, birthing coaches, and private hospitals)

Other special occasions

Aside from photo printing, you can also offer personalized services like:

Photo editing

Custom borders

Various paper designs, textures, and styles
Why Choose This Business
Low overhead

Minimal camera skills if you will only offer printing services

A wide market
#4 Labels and Stickers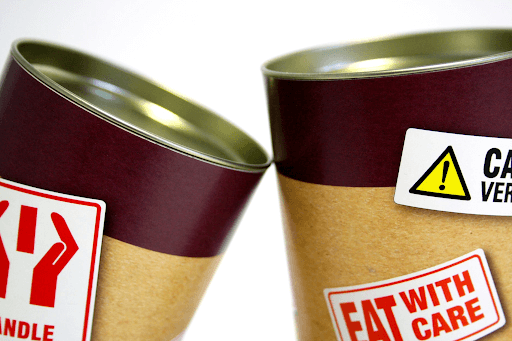 Source: Pexels
If you are excellent at designing, then selling labels and stickers would be very profitable. You just need to design once and then sell them over and over. The global demand for warning stickers and labels alone is expected to rise in the next 4 decades. As for the print label market, it is projected to expand at a 4.2% CAGR from 2021 to 2026. The die-cut stickers market, on the other hand, will grow at a 5.2% CAGR from 2021 to 2026.
Investment Range to Start
Niche Market and Business Ideas
Warning stickers and labels

Custom labels and stickers

Packaging and product labels

Shipping and mailing labels

Promotional and event stickers

Campaign and political stickers

Bumper, tile, floor, wall, and hard hat stickers
Why Choose This Business
Easy to start

Very little capital

Various market to choose from

High customer retention rates

Scalable
#5 Signs, Banners, and Posters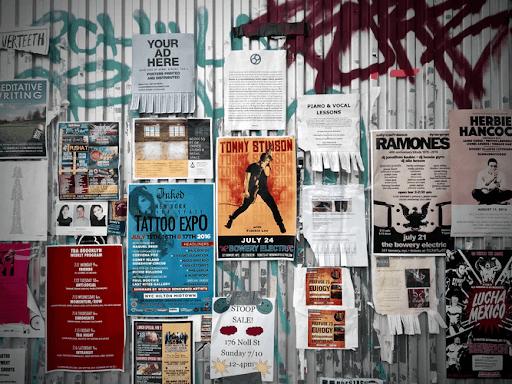 Source: Unsplash
Posters, banners, and signs play a major role in advertising. They are the most trusted ways in promoting a business by boosting visibility as well as giving a professional and polished look. Aside from promoting sales, they can also be used for advertising events and more. This makes a banner and signs printing service business an excellent choice for B2B customers.
Investment Range to Start
Niche Market and Business Ideas
Sidewalk signs

Real estate signs

Informational signs

Promotional signs

Retractable banners

Table banners

Fabric banners

Backdrops

Pop-up display
Why Choose This Business
Banners, signs, and posters are among the widely used types of advertisements so you will have a large market

Very profitable

Easy to do
#6 Brochures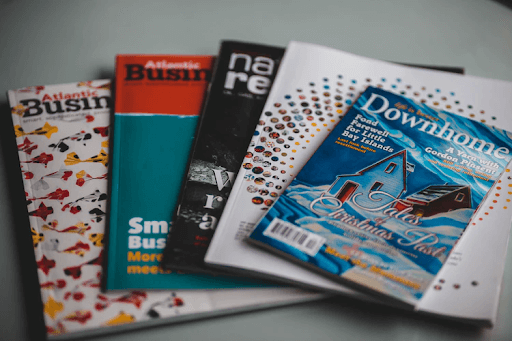 Source: Unsplash
Professional brochures help represent a business's products and services. By starting a brochure printing business, you can help a lot of businesses stand out by creating vibrant marketing materials. This is because brochure marketing is a vital component for any business.
Investment Range to Start
Niche Market and Business Ideas
Offer various paper finishes and stocks as well as different features and options such as the following:

Full-color printing

Double-sided brochures

Multiple folding (e.g. gate fold, accordion fold, half-fold, z-fold, tri-fold, etc.)

Use common brochure formats (8.5 x 11, 8.5 x 14, 11 x 17, 11 x 25.5)
Why Choose This Business
In-demand to B2B customers because brochures are proven to be effective in capturing the attention of customers

Low-investment business
#7 Business or Visiting Cards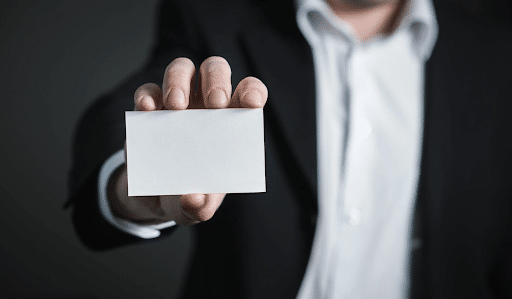 Source: Pexels
Business cards can help in creating a good first impression and every business is expected to have one of these. They are among the ultimate ways to enhance brand image effectively. This created a huge demand for business cards, so it would be a successful business idea that you can explore. 
Investment Range to Start
Niche Market and Business Ideas
Personalized business cards

Business cards in different shapes (slim, square or slim rounded corner, folded, circle, half-circle, oval, etc.)

Offer single-sided, double-sided, and full-color options

Different paper stock like silk laminated and pearl metallic

Matte or high-gloss coating
Why Choose This Business
Very common in businesses

Huge demand

Increased customer base

Enhanced revenue
#8 Postcards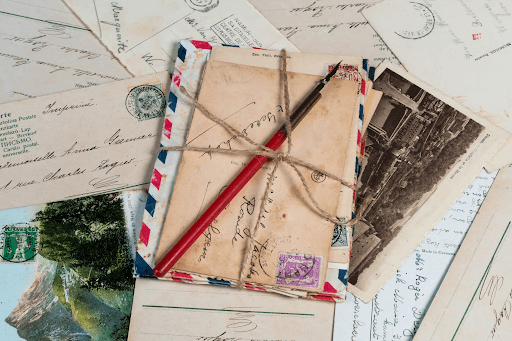 Source: Pexels
Marketing by using postcards (postcard marketing) helps businesses reach their target market through printed promotional pieces like announcements, coupons, and offers. Postcard marketing may seem old school in this modern world. However, many rapidly growing brands are starting to include it in their marketing strategies.
Postcard marketing still works and in fact, is even more effective compared to popular digital methods. It even has a higher return on investment. This is the best time to take advantage of this trend and offer postcard printing services to businesses.
Investment Range to Start
Niche Market and Business Ideas
Promotional products

Folder, spot UB, metallic, silk, velvet, and other types of postcards

Postcards for introducing a business, new product launch, sales, grand opening announcements, etc.
Why Choose This Business
Rising demand for postcards for marketing purposes

Postcard marketing brings tremendous results to businesses and even outperforms many digital channels
#9 Flyers and Leaflets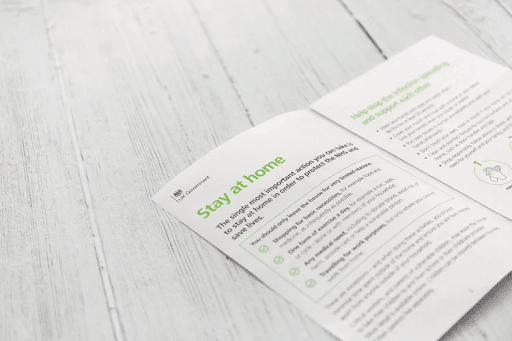 Source: Unsplash
Flyers and leaflets that can easily capture a customer's attention are among the most used marketing materials nowadays. They are easy and effective ways in raising brand awareness. Thus, there is a great demand for these printed materials for businesses worldwide to survive in a competitive market. In fact, you can see them anywhere and it's very rare for a business not to have one of these. 
Investment Range to Start
Niche Market and Business Ideas
Sales promotion

Schools or work announcements

Amplifying charity or any cause

Promoting new products

Advertising events
Why Choose This Business
In-demand and highly beneficial to startups

Easy way to generate revenue

Profitable business

The demand is always high
#10 Invitation and Greeting Cards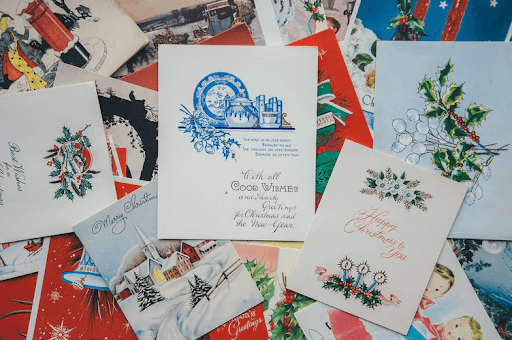 Source: Unsplash
Invitation and greetings cards have become important whether in corporate functions or not. Customized cards are becoming highly in demand, especially during festive seasons to help customers express their affection and best wishes to a loved one. And for sure, you are aware that there are a lot of occasions in one year. This ensures that you will generate income all year round. 
Investment Range to Start
Niche Market and Business Ideas
Personalized cards with exceptional design and message

Birthday cards

Wedding cards

Other festive seasons and occasions
Why Choose This Business
Lucrative business idea

Low investment but very high profits
Other In-Demand Printing Business Ideas
Aside from the ones we have mentioned above, below are other printing ideas you can try:
Bookmarks

Door hangers

Envelopes

Forms

Letterhead

Magnets

Manuals

Newsletters

Presentations

Rack cards

Reports

3D printing

Cellphone and laptop covers

Logo printing on promotional products

Calendars

Car magnets

Catalogs and menus
Also Read:
Conclusion
Choosing the right business to start with is important in guaranteeing the success of your entrepreneurship journey. Also, it is better to focus on your B2B customers if you are in the printing industry. This is because bulk orders are essential in running a profitable printing business that is ensured to flourish. We hope that you were able to find your ideal printing business on our list.